Real estate attorney Leo B. Siegel discusses ways to divide real property for joint owners. The legal process is known as a California Partition Action.  If a partition lawsuit is filed with the court, the sale is subject to an auction in the courtroom and can be overbid.  
---
The question has arisen as to what happens when someone inherits property, or two people inherit property and one of them wants to sell it to be cashed out but the other one doesn't want to do that and wants to either rent it out or continue living in it if they were living in it before.
How do you get the property sold for the party that wants to be cashed out?
What we are talking about here is called California Partition Action.
How to win a partition action? The law in the State of California will not require someone to continue owning a property with someone they co-own it with if one of the parties wants to sell it and the other one doesn't. The best way to win is for the parties to agree on how they will move forward and avoid a partition suit. 
The law provides an action called California Partition Action to dispense with that issue.
Three Types of Partition
The first is called partition in kind which would apply if you have items that are fungible, divisible, like a sack of beans.  This will not apply to the real property unless you own two real properties that are identical. One can get one property and one the other.
There is a second type of partition that often is used with real property. It's called partition by appraisal where the parties mutually agree that they will get the property appraised with a mutually agreeable appraiser and they will agree to be bound by the value of the property.  As long as they do not disagree as to the percentages of ownership of the property, whether it is 50/50 or otherwise, they either sell the property then divide the proceeds in that manner, or one party agrees to buy the other out.
If they cannot agree to a partition by an appraisal, but still one party wants to be cashed out,  and the other party will not buy them out, the law provides for a third type of appraisal called partition by sale. That requires a partition suit. The others do not require a lawsuit.
California Partition Complaint – The Legal Process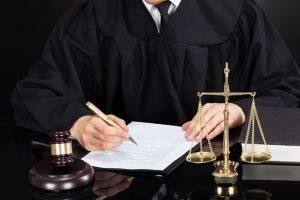 A partition action is filed. The court will then conduct what is called an interlocutory hearing for the issuance of an interlocutory judgment at which point that court determines the percentages of ownership of this property.  Are they 50/50 or 75/25? It depends upon the facts.
Assuming they are 50/50 the court will then appoint a referee who takes control of the property and selects a real estate agent. The Realtor goes out and gets potential buyers for the property. The buyers are all told the sale is subject to approval by the court. The buyers all come together on an appointed date for an auction in the courtroom. It's a regular type auction where there can be overbids and anybody can overbid.  Even one of the owners can overbid and likely be able to get credit for their half interest in the property if it is a 50/50 ownership.
For Example, if the successful bid for the property is $1,000,000 they would only have to pay $500,000. They could get financing for $500,000 as opposed to one of the third-party buyers who would have to come up with the full million dollars.
The real estate agent's commission is then paid, the referee's fees are paid, and the remaining proceeds, the equity, are divided between the co-owners.
court order to force sale of property. One co-owner cannot say: "I'm not selling the property, too bad!" The court will force them to sell the property if there is a partition by sale. 
How Much Does a Partition Action Cost?
That is why it is always better for the parties to agree to a partition by appraisal. You save money that way. There are no attorneys involved. Any party in a partition action is going to pay their own attorney's fees. It is money that is wasted if one party forces a partition suit.
California partition action attorneys fees. Attorney fees are agreed upon between the client and attorney. The referee gets paid thousands of dollars, tens of thousands of dollars sometimes. That is money out of both co-owners pockets when they don't agree on a satisfactory, mutually agreeable partition by appraisal.
Can a Partition Action be Stopped?
It's a relatively simple type of lawsuit because there are no defenses to it except for the one major defense would be Waiver.
How to stop a petition to partition? The Waiver would be if the party that did not want to sell had a defense to the lawsuit that the other co-owner waived the right to partition, usually in writing.
Sometimes I am asked, "Well, how do I get back the money for the improvements I spent on the property?"  That depends on how the title had been held. If it was held on co-tenancy as opposed to joint tenancy, one party can recover certain costs of improvements.  If it is held in joint tenancy before the partition sale, one joint tenant normally cannot recover costs of improvements unless there was an agreement or understanding in writing, as to one party being reimbursed for expenses they incurred on behalf of the entire property.
Leo B. Siegel is a real estate attorney with 34 years of experience handling landlord/tenant issues, evictions, co-ownership disputes, contract disputes, fraud, title issues, easements, and boundary disputes. He may be contacted at (831) 768-9110 or www.legalsiegel.org.  
The bottom line 
If you need help with a California Partition Action, or any other real estate-related matters such as filing a partition lawsuit or understanding the auction process,  click the button below to request legal help.